Qualcomm Introduces Cutting-Edge IoT Solutions to Enable New Industrial Applications and Help Scale the IoT Ecosystem
Original source: Qualcomm.com
Highlights:
Latest IoT solutions deliver superior performance, advanced connectivity and next-gen processing for a wide range of IoT use cases for smart buildings, enterprises, retail and industrial automation.
These will enable next-gen smart cameras, drones, robotics, video collaboration, cloud gaming, industrial handhelds, panels, point-of-sale devices, and more.
The solutions aim to further expand IoT ecosystems by providing scalability, ease of use, and best-in-class performance.
Continuing its efforts to expand the Internet of Things (IoT) ecosystem and IoT use cases, Qualcomm Technologies, Inc. today announced new IoT solutions to enable the advancement of next-generation IoT devices: Qualcomm® QCS8550, Qualcomm® QCM8550, Qualcomm® QCS4490 and Qualcomm® QCM4490 Processors.
The new and upgraded solutions offer a breadth of capabilities, advanced features, and versatility aimed to meet the needs of demanding industrial and commercial IoT applications. New use cases across the solutions support further expansion of the IoT ecosystems across key segments including video collaboration, cloud gaming, retail, and more.
"Qualcomm Technologies is uniquely positioned to take the IoT ecosystem forward," said Dev Singh, vice president, business development and head of building, enterprise & industrial automation, Qualcomm Technologies, Inc. "Our new solutions bring together the industry's leading technologies across edge AI processing, innovative power efficiency, crystal-clear video, 5G connectivity, and more to fuel the next-generation of resilient, high-performing IoT applications."
The Qualcomm QCS8550 and QCM8550 Processors are designed for performance-intense IoT applications
The new Qualcomm QCS8550 and QCM8550 Processors combine maximum compute power, extreme edge AI processing, Wi-Fi 7 connectivity, and vivid graphics and video to enable and quickly deploy performance-heavy IoT applications, such as autonomous mobile robots and industrial drones.
This premium offering is engineered with Qualcomm Technologies' AI architecture optimized to deliver extreme processing power to a diverse range of business models and use cases. The Qualcomm QCS8550 and QCM8550 also feature robust video and graphics processing for enabling immersive cloud gaming, video collaboration, and video streaming experiences. Learn more.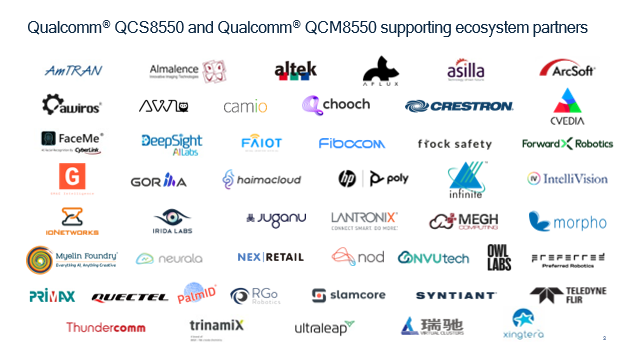 The Qualcomm QCS4490 and QCM4490 Processors enable a new generation of industrial handheld devices
The Qualcomm QCS4490 and QCM4490 Processors deliver key advanced features such as premium connectivity and next-gen processing to industrial handheld and computing devices.
The solutions are equipped with both 5G and Wi-Fi 6E for multi-gigabit speeds, extended range, and low latency, and powerful, efficient processing to handle complex computing tasks. The Qualcomm QCS4490 and QCM4490 Processors are designed with planned support for Android releases through version 18, meaning they can be used in industrial designs through 2030, providing flexibility and longevity for maximizing development time and cost savings. Learn more.

In addition to meeting the intense processing needs required by industrial handheld and computing devices, these mid-tier solutions are also ideal for other IoT applications that require low-latency connectivity, enhanced reliability, and an optimized development time including advanced retail and point of sale, as well as control and automation applications like security panels.
With a suite of connectivity and processing capabilities, both the QCS4490 and QCM4490 Processors as well as the QCS8550 and QCM8550 Processors will create tremendous value for a range of industrial use cases, including through the all-new Qualcomm Aware™ Platform in the future.
About Qualcomm
Qualcomm is enabling a world where everyone and everything can be intelligently connected. Our one technology roadmap allows us to efficiently scale the technologies that launched the mobile revolution – including advanced connectivity, high-performance, low-power compute, on-device intelligence and more – to the next generation of connected smart devices across industries. Innovations from Qualcomm and our family of Snapdragon platforms will help enable cloud-edge convergence, transform industries, accelerate the digital economy, and revolutionize how we experience the world, for the greater good.
Qualcomm Incorporated includes our licensing business, QTL, and the vast majority of our patent portfolio. Qualcomm Technologies, Inc., a subsidiary of Qualcomm Incorporated, operates, along with its subsidiaries, substantially all of our engineering, research and development functions, and substantially all of our products and services businesses, including our QCT semiconductor business. Snapdragon and Qualcomm branded products are products of Qualcomm Technologies, Inc. and/or its subsidiaries. Qualcomm patented technologies are licensed by Qualcomm Incorporated.