Qualcomm QCM8550 and Qualcomm QCS8550 Processors for compute-intensive applications
Original source: Qualcomm.com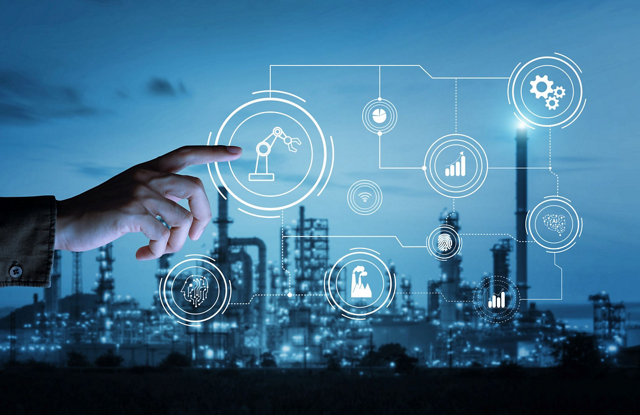 Looking to expand your Internet of Things (IoT) solutions along with increased performance of your most compute-intensive applications? Introducing the new, top-of-the-line Qualcomm QCM8550 and Qualcomm QCS8550 Processors.
QCM8550 and QCS8550 deliver robust compute power, extreme Edge artificial intelligence (AI) processing, Wi-Fi 7 connectivity, and vivid graphics and video for performance-heavy IoT applications. Both are made for manufacturers and designers of IoT products that demand our highest performance in a single processor. Ideal use cases include, but are not limited to:
Autonomous mobile robots: Implement simultaneous location and mapping (SLAM), with a richer sensor set and AI at the network edge
Industrial drones: Run multiple cameras with the real-time AI processing needed for drones
Edge AI devices: Enable multiple concurrent machine learning modules per stream
Video collaboration: Premium performance for delivering some of the most engaging meeting experiences using video and audio AI, multiple high-resolution cameras and abundant compute and graphics processing unit (GPU) power
Video transcoding: Convert live video to multiple formats simultaneously — especially useful for short video applications
Cloud gaming: Run multiple cloud-based games concurrently with visually richer game content and deeper player engagement
Camera applications: Build cameras for sports/action, security, automobile dashes and multi-camera with improved IQ and cognitive ISP
Retail: Apply AI to reduce friction in retail scenarios like unattended smart carts, smart cameras, on-shelf product identification and bar codes
Enterprise-level performance
QCM8550 and QCS8550 processors are built for demanding enterprise applications, including your most compute-intensive multimedia, Edge AI, and retail use cases. The system on chip (SoC) enables next-generation features and delivers best-in-class performance.
This includes:
Qualcomm Kryo central processing unit (CPU), which delivers up to 1.5 times the compute power of previous Kryo CPUs
Qualcomm Adreno GPU, which provides three times the performance of our previous Adreno GPUs, allowing mobile games to take advantage of hardware-accelerated ray tracing. It also:

Concurrently handles multiple video sessions of different formats and resolutions
Has a multiple display interface available for rendering contents on different panels simultaneously with Ultra High Definition (UHD) resolutions

The 8th-generation Qualcomm AI Engine, which powers AI applications with up to 10 times the performance of previous engines
Premium, with always-on audio that runs on dual-embedded neural processing units (eNPU) that provide more than 300 giga-operations per second (GOPs), plus spatial audio with headtracking
Qualcomm Spectra 18-bit triple cognitive image signal processor (ISP), which is our first AI-powered camera processor. This also:

Powers real-time semantic segmentation, multiple camera pipelines for high-end imaging, and generates vivid pictures with zoom, which is perfect for auto-framing
Has low-power, always-on cameras which enable increased autonomous operations and controls, improve overall IQ, and higher compute per channel

Enterprise-grade security capability through our Trust Management Engineand Qualcomm Type-1 Hypervisor
Delivery of speeds of up to 5.8 Gbps through 5G and is engineered for Wi-Fi 7 (802.11be)
All of the above features create ideal scenarios for application in transcoding, gaming, video collaboration, multi-camera and AI-box use cases.
Qualcomm QCS8550 and QCM8550 Processors
Get into more details and read the product brief
Take me to the product page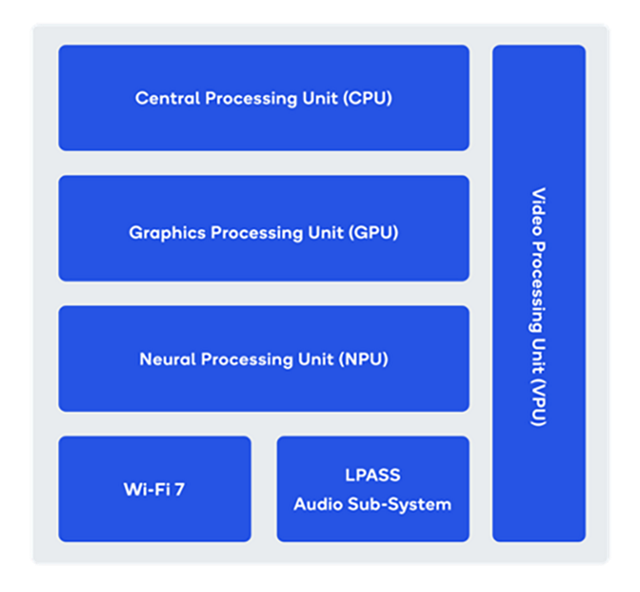 More power for artificial intelligence
A unified AI SDK plus APIs enable the QCM8550 and QCS8550 processors to support different stacks that can scale up using software alone. And, to help shorten your time to market, you can port painlessly from one processor family to another.
The additional power in the AI Engine — and in the processor overall — opens a broader domain of applications that you can build more quickly and in a standardized way. Examples include autonomous mobile robots, industrial drones, collaboration and conference, Edge AI boxes, multi-camera, smart retail, and high-throughput industrial applications.
QCS8550 introduces support for INT4 and FP16 in its 8th-generation AI engine. The chip also features micro-tile inferencing and ability to speed up transformer networks.
Interested in learning more?
It's clear that the QCM8550 and QCS8550 processors are our new, top-of-the-line IoT platform. They combine low power, increased heterogenous computing for Edge AI processing with Wi-Fi 7 connectivity, and robust graphics and video to enable your compute-intensive IoT applications across industries.
Have a look at the product brief to gauge the fit with your designs. Besides learning more about QCM8550 and QCS8550, you can also find out about our mid-tier Qualcomm QCM4490 and Qualcomm QCS4490 processors.